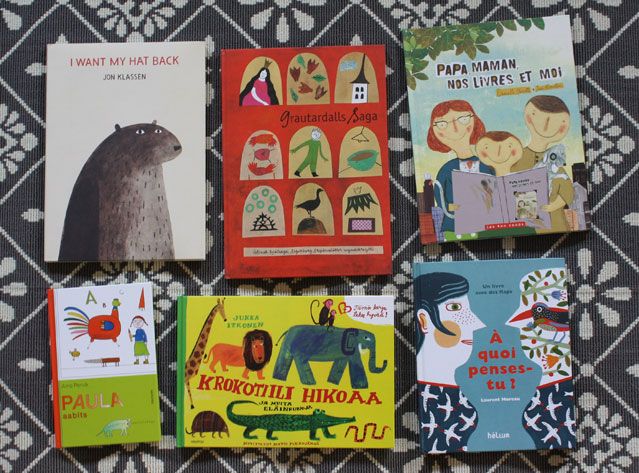 my souvenir of choice when i travel abroad is children's books by authors and illustrators native to that country; in addition to the beautiful illustration, typography and design of the books, i just enjoy the look of other languages, especially if the type is hand drawn. here are some of the latest additions to my collection, clockwise from top:
jon klassen's
i want my hat back
(not foreign, but a prized possession);
grautardalls saga
, a collection of icelandic tales illustrated by
sigurborg stefánsdóttir
, which i picked up in reykjavík a couple of years ago; from montréal: french canadian
papa, maman, nos livres et moi
by danielle marcotte, illustrated by
josée bisaillon
; aino pervik's
paula aabits
, illustrated by
piret raud
(found in tallinn); jukka itkonen's
krokotiili hikoaa
, illustrated by
matti pikkujämsä
(from helsinki); and the only book on this list which i purchased online (after much coveting) is the exquisite
à quoi penses-tu?
written and illustrated by
laurent moreau
.