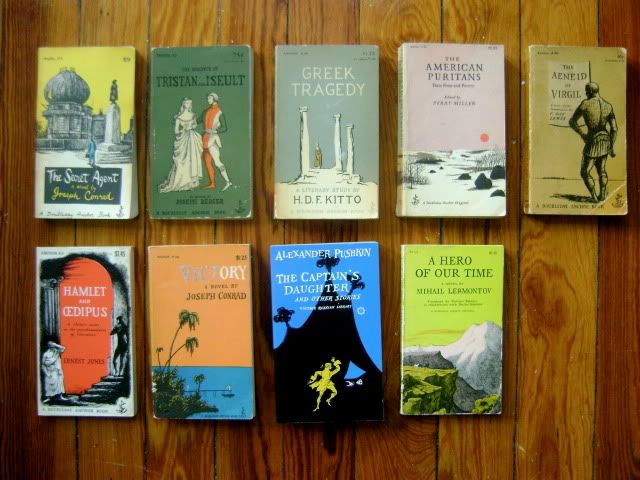 a couple of blocks behind my house is a place called "the book thing," a nonprofit organization with a mission to give unwanted books a new home. people donate their unwanted books all week, and on saturdays and sundays, the general public is invited to browse the selection and encouraged to take home as many books as they like, for free. i go there every weekend and find all kinds of treasures: handsome old volumes of classic novels, old issues of "national geographic," children's books, history books, geography books with beautiful photographs...
my most prized collection from the book thing consists of the nine paperbacks pictured above. in the 1950s, edward gorey designed covers for
doubleday anchor books
. his name isn't even credited in some of them. i skim the paperback shelves every week for the familiar illustration style and hand-drawn type on the spine, and when i find one, it's a holiday. last week i acquired "tristan and iseult" and "greek tragedy," (the latter looking so hastily done that i assumed i was mistaken and put the book back, until i saw the cover on somebody's blog. i sprinted back and snatched the book, and sure enough, there is a little "EG" in the corner of the illustration). these covers are very rare. really, the things people give away!